VESPA / Europlanet 2024
The goal of VESPA (Virtual European Solar and Planetary Access) is to build a Virtual Observatory (VO) for Solar System Sciences, by adapting standard VO techniques and developing new tools and standards to handle the specificities of Planetary Science data.
VESPA in Europlanet-2020
During the Europlanet-2020 contract (2015-19), VESPA has developed a contributive data distribution system where data services are located and maintained in research institutes, declared in a registry, and accessed by several clients based on a specific access protocol.
Data are described using the EPN-TAP protocol, which parameters describe acquisition and observing conditions as well as data characteristics (physical quantity, data type, etc).
At the end of Europlanet-2020 (Aug 2019), 52 data services were installed in 18 different institutes worldwide. ESA has implemented EPN-TAP on the Planetary Science Archive (PSA), which includes 10 million files from 30 years of space missions in Europe. The outcome of several EU funded programmes is also distributed this way.
A main query portal has been developed to optimize the user experience, which queries all services together. Compliance with VO standards ensures that existing TAP clients can be used as well to access the data services.
Standard visualization and analysis tools have been upgraded, and some developed, to support Planetary Science data (e.g.: spectra in reflected light, coordinate systems on planetary bodies, spacecraft trajectories, etc).
A bridge linking the VO and Geographic Information Systems (GIS) has been installed to address formats and tools used to study planetary surfaces.
Several large data infrastructures were also installed or upgraded (e.g.: SSHADE for spectroscopy, PVOL for amateurs images, AMDA for plasma-related data). They all include an EPN-TAP interface.
VESPA therefore provides common data mining capacities, advanced visualisation, cross-comparison potential, and data analysis functions to all connected data services.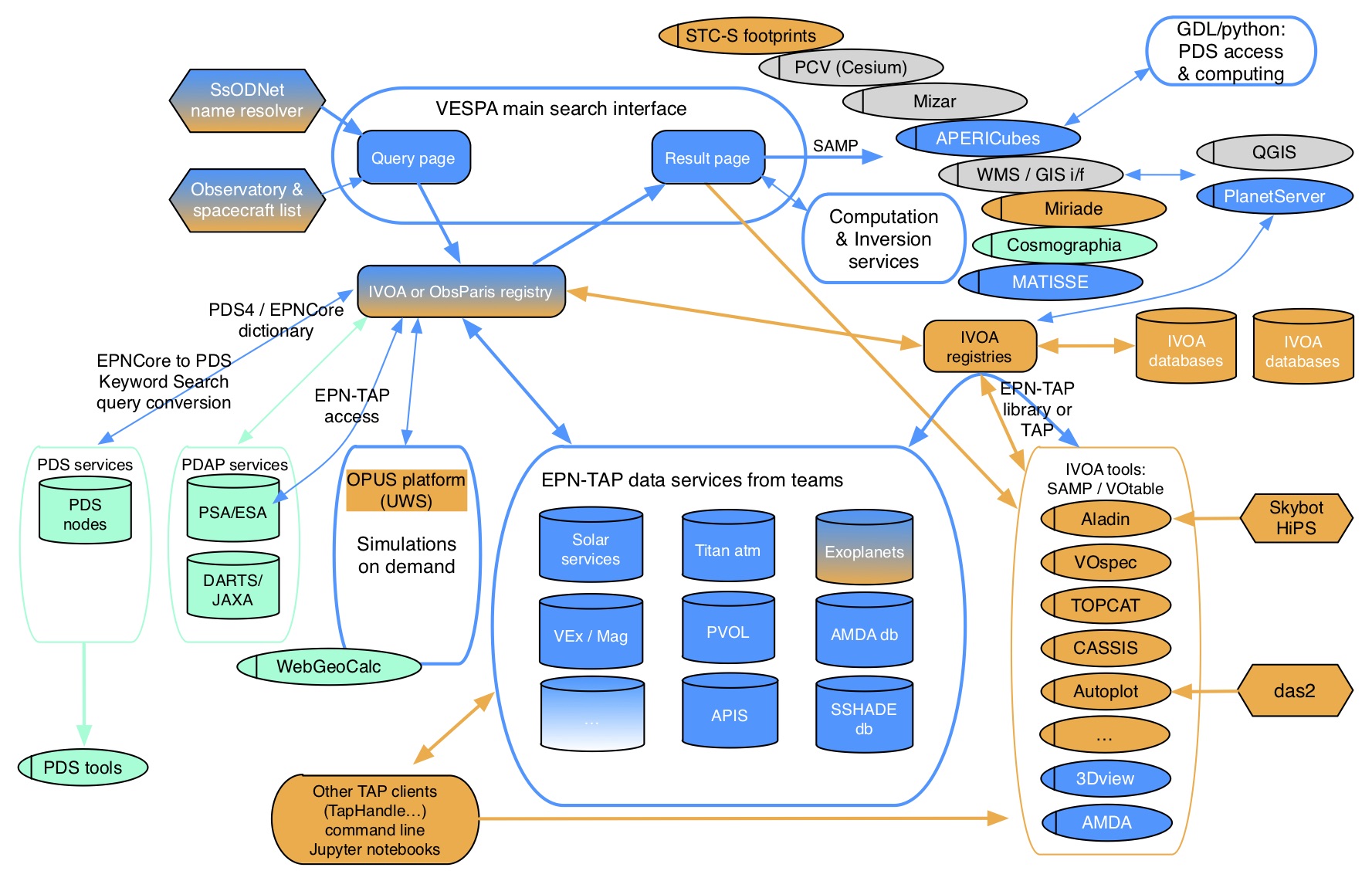 New in Europlanet-2024
In the framework of the Europlanet-2024 programme (2020-24), the VESPA activity will complement this system even further:
30-50 new data services will be installed, focusing on derived data, and experimental data produced in other Work Packages of Europlanet-2024;
Connections between PDS4 and EPN-TAP dictionaries will make PDS metadata (from space mission archives) searchable from the VESPA portal and vice versa.
Solar System data present in astronomical VO catalogues will be made accessible, e.g. from the VizieR database.
The search system will be connected with even more powerful display and analysing tools: a run-on-demand platform will be installed, as well as Machine Learning capacities to process the available content.
Long-term sustainability will be improved by setting VESPA hubs to assist data providers in maintaining their services, and by using the new EU-funded European Open Science Cloud (EOSC).
In addition to boosting the exploitation of data, VESPA provides a handy and economical solution to Open Science and Open Data challenges in the field. The VO is responsive to FAIR (Findable, Accessible, Interoperable, Reusable) principles for scientific data stewardship.
The Virtual Observatory in Planetary Science
This vision will tremendously increases the science return of the shared datasets. The scientists are able to search for data using a simple interface and a series of limited scientific parameters. They do not have to worry about data location or data formatting. All planetary and solar system science fields will be available through the same interface. This potentially allows for a very efficient cross-fertilization between neighbouring fields. Several examples of use can be provided here:
searching in a methane lake region of Titan, the user will be able to retrieve the atmospheric conditions depending on season or altitudinal density and composition profiles;
looking for auroral images at Jupiter, the user will have also access to observations in the low frequency radio range, as well as thermospheric models, upstream solar wind or magnetospheric conditions;
looking for spectral observations of comets, the user will also be able to get laboratory observations for various composition of ices.
The system provides equal access to all shared datasets, enforcing data discovery. Hence, even small teams contributing to the VESPA effort have the same visibility as large space agency databases. The amateur community also has a place in this system as valuable data providers.
Credits
Citing VESPA
If your research benefits from the use of VESPA, we would appreciate if you could include the following acknowledgement and reference in your publication:
"This research has made use of the VESPA portal and services (https://vespa.obspm.fr) funded by European Union's under grant agreement No 871149"
VESPA: A community-driven Virtual Observatory in Planetary Science. Erard S et al., 2018. doi: 10.1016/j.pss.2017.05.013
Please also acknowledge the original data providers.
Except where explicitly mentioned, data are distributed under Etalab Open License 2.0 (compliant with CC-BY 2.0 license).
The Europlanet 2024 Research Infrastructure project has received funding from the European Union's Horizon 2020 research and innovation programme under grant agreement No 871149.
The Europlanet 2020 Research Infrastructure project has received funding from the European Union's Horizon 2020 research and innovation programme under grant agreement No 654208.
This work used the EGI Infrastructure with the dedicated support of IN2P3-IRES and CESNET-MCC.
VESPA has first been designed in the frame of Europlanet-RI JRA4 work package (IDIS activity).
Additional funding was provided in France by the Action Spécifique Observatoire Virtuel and Programme National de Planétologie / INSU.